Fruity Balsamic Tofu Summer Salad
Summer is just around the corner, and this fruity balsamic tofu summer salad is the perfect way to usher in the new season! It's super refreshing, easy, gluten-free and of course: vegan.
Today I made it with mango and apple, but you can choose any fruits that are in season where you live. It's lovely with berries or pomegranate as well. I definitely recommend using at least one sweet fruit like mango, strawberry or peach.
For the tofu marinade I used coconut nectar, which you could substitute with maple syrup or agave nectar. I also used balsamic glaze, however you can just use balsamic vinegar if you don't have the glaze – the marinade will just be a bit less thick.
As a topping I used walnuts, raisins, sunflower seeds and pumpkin seeds. Again: use any nuts or seeds you like. Basically, just get creative with this recipe!
INGREDIENTS for vegan summer salad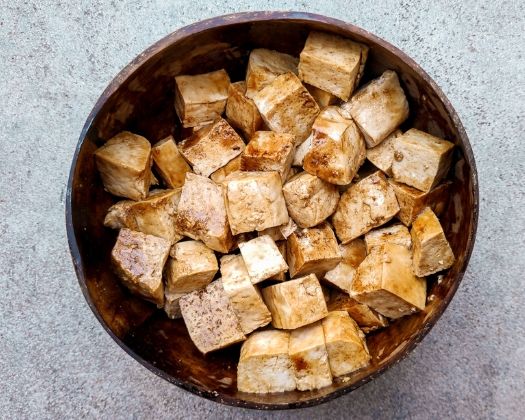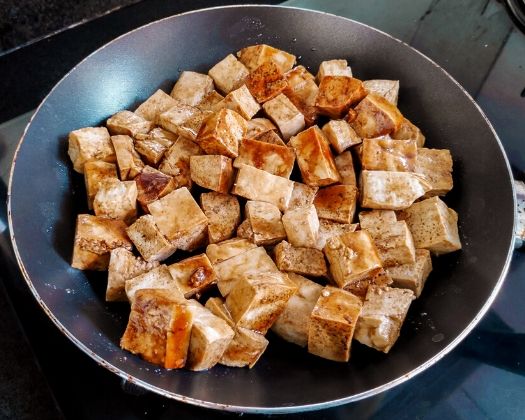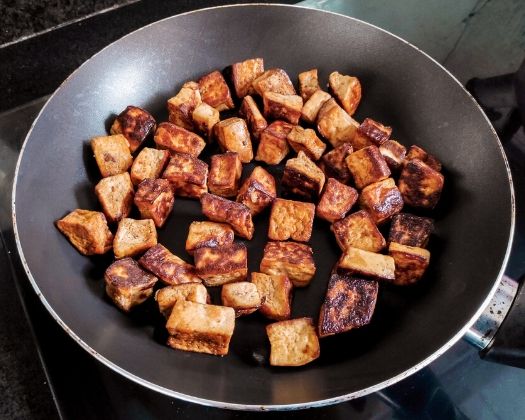 how to make this vegan summer salad
Press the water out of the tofu by placing it in between some paper towels or tea towels and putting some weight on top of it. Make sure to do this for at least 15 minutes, otherwise the tofu might crumble apart when you are cooking with it.


Cut the tofu into cubes when it is done pressing. Put it in a bowl and add the balsamic glaze, sesame oil and coconut nectar (or another vegan sweetener). Also add the garlic powder, onion powder and salt. Mix well and let this marinate for at least 15 minutes.


Meanwhile, prepare all your other ingredients. Wash and cut the lettuce, cucumber and fruits, and mix them together in a bowl. Also finely chop half of a red onion and the walnuts.


Heat a frying pan and add the marinated tofu. You won't need more oil, since the marinade already contains sesame oil. Cook this on low-medium heat for about 15 minutes, stirring every now and then. You could also cook it in the oven for about 30 minutes at 400

°F (200

°C).

 

When the tofu is golden brown, it's time to finish this fruity balsamic tofu summer salad. If you want to mix the tofu through the salad, let the tofu cool down first. Top the salad off with some nuts and seeds, and drizzle some of the balsamic glaze over it.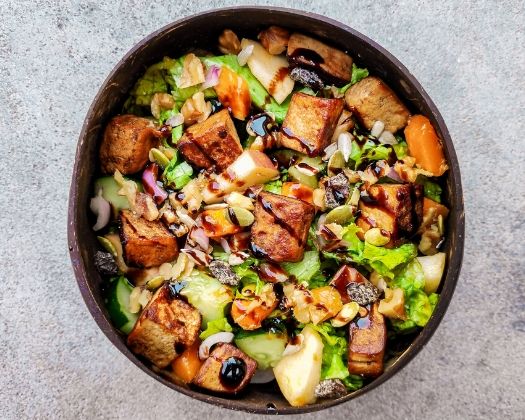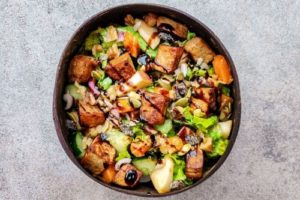 Fruity Balsamic Tofu Summer Salad
Ingredients
10.5

oz

tofu

(300 g)

1

head

butter lettuce

1

head

iceberg lettuce

1

cucumber

½

red onion

1

mango

1

apple

1

tbsp

balsamic glaze

1

tbsp

coconut nectar

(or another vegan sweetener)

1

tbsp

sesame oil

3

tbsp

raisins

3

tbsp

sunflower seeds

3

tbsp

pumpkin seeds

3

tbsp

walnuts

¼

tsp

garlic powder

¼

tsp

onion powder

½

tsp

salt