If you know me a little bit by now, you should know that I love anything with peanuts or peanut sauce. Knowing this, it shouldn't come as a surprise that vegan gado-gado is one of my favorite Indonesian dishes.
In the time that I have been living and traveling in Indonesia, I have tried many different gado-gado's. Everywhere they seem to make it slightly different, so it gave me a lot of inspiration to create gado-gado the way I like it best.
It's packed with veggies and thus super healthy, but it doesn't really feel like eating a salad. Next to that, the tempeh, tofu and peanut sauce make it a protein-packed vegan meal.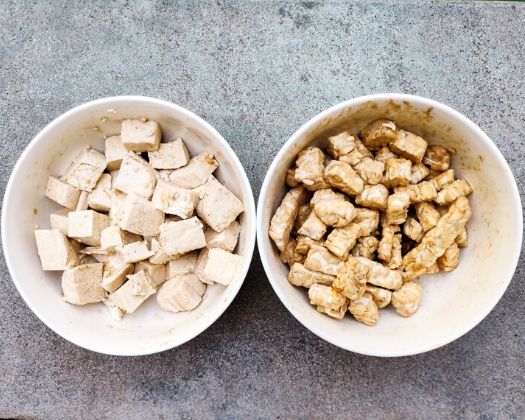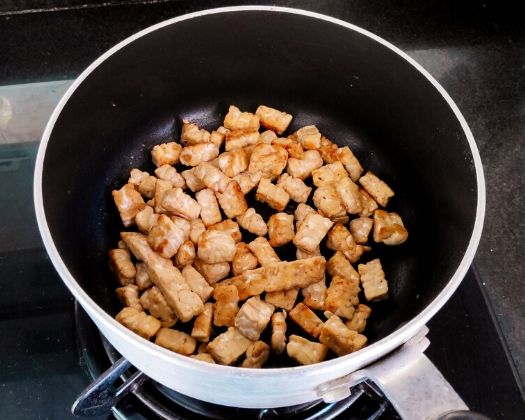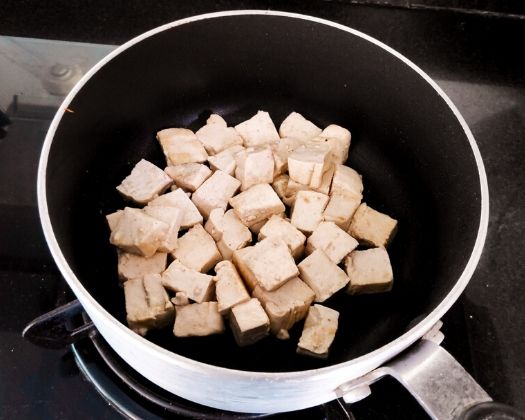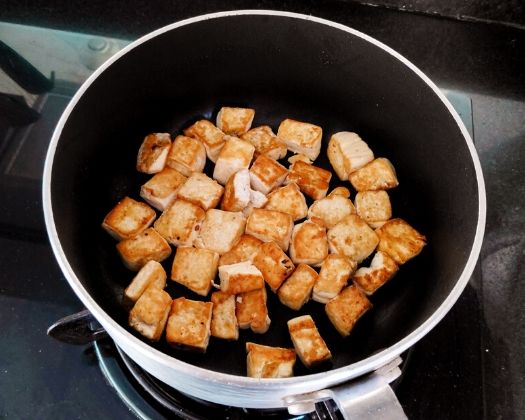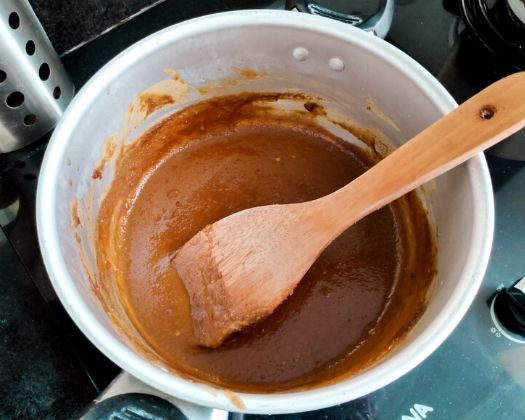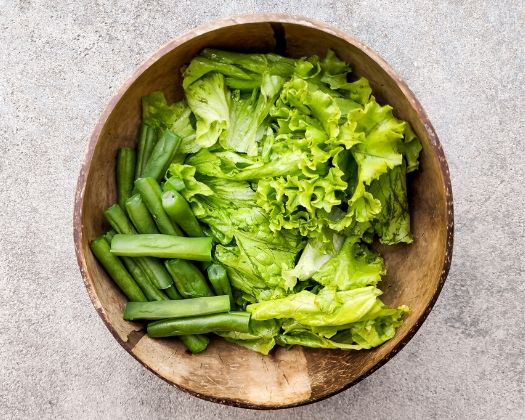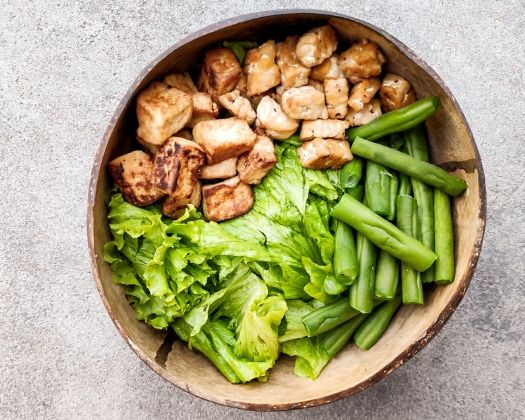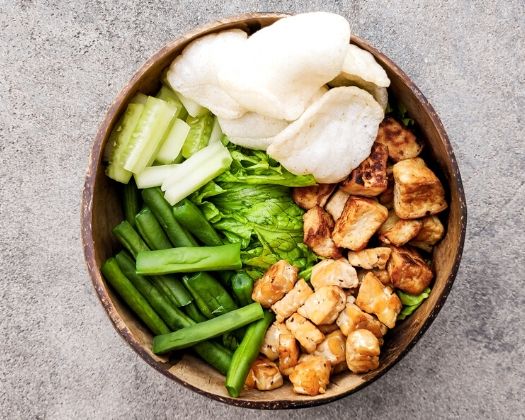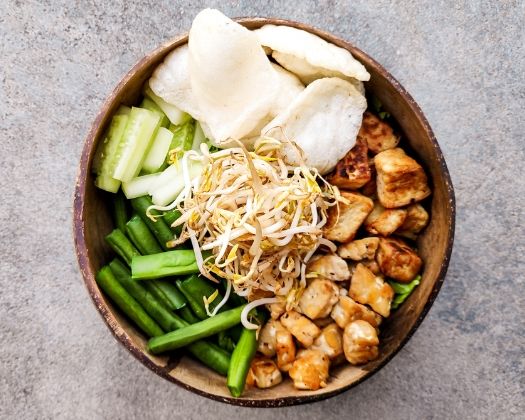 how to make vegan gado-gado salad
Cut the tofu and tempeh into cubes and season with the soy sauce, garlic powder, onion powder, salt and pepper. I put the tempeh and tofu in two different bowls and cook them separately.


Heat two teaspoons of cooking oil in a frying pan and cook the tempeh and tofu until they turn a golden brown color. This should take about 10 minutes.


Meanwhile, cut the green beans into smaller pieces and cook them in boiling water for 7 minutes approximately. The beans should still have a light crunch to them.


Prepare a saucepan and add the peanut butter, kecap manis, sambal (or chili peppers) and water. Cook on low heat until it turns into a smooth satay sauce.


Wash the lettuce and bean sprouts. Cut the cucumber into cubes or strips.


Place the lettuce in a bowl or on a plate, and layer it with the green beans, tempeh, tofu, cucumber, bean sprouts and rice crackers. Pour the satay sauce over it to finish the vegan gado-gado salad. Optional: garnish with chopped roasted peanuts or fried onion.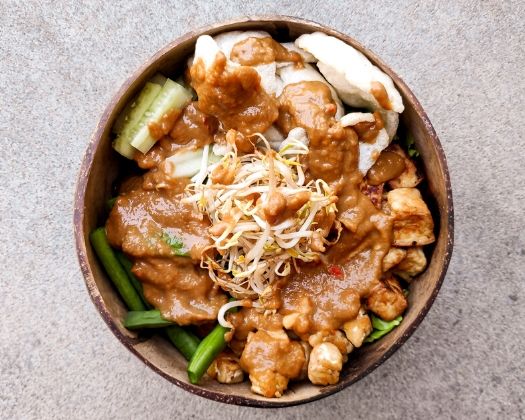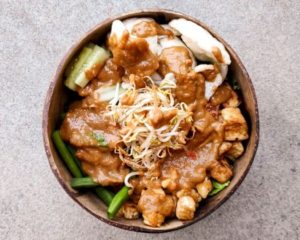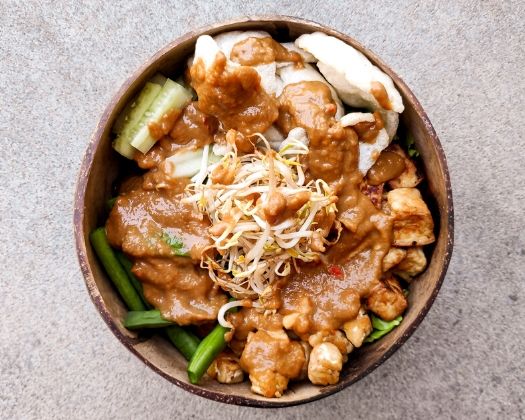 Vegan Gado-Gado Salad
Ingredients
1

head

iceberg lettuce

1

cucumber

2

handfuls

green beans

5.3

oz

tofu

(150 g)

5.3

oz

tempeh

(150 g)

2

handfuls

bean sprouts

cassava chips or rice crackers

¾

tbsp

kecap manis (sweetened soy sauce)

3

tbsp

peanut butter

2

tsp

sambal (or chili peppers)

1

cup

water

(240 ml)

2

tbsp

soy sauce

½

tsp

garlic powder

½

tsp

onion powder

½

tsp

salt

¼

tsp

pepper
More vegan salad recipes: