Summer Rolls with Peanut Sauce
Summer rolls, rice paper rolls, rainbow rolls… or however you want to call them – they are the best snack for a hot summer day!
Easy to make, colorful and super fresh. You can basically fill them with any ingredrient you desire, so they are also perfect to use up some of your leftover food. Personally I LOVE them with a peanut sauce, but honestly I could eat anything with peanut sauce.

Serve these vegan summer rolls with peanut sauce at a party, or enjoy them on a warm summer day for lunch or dinner.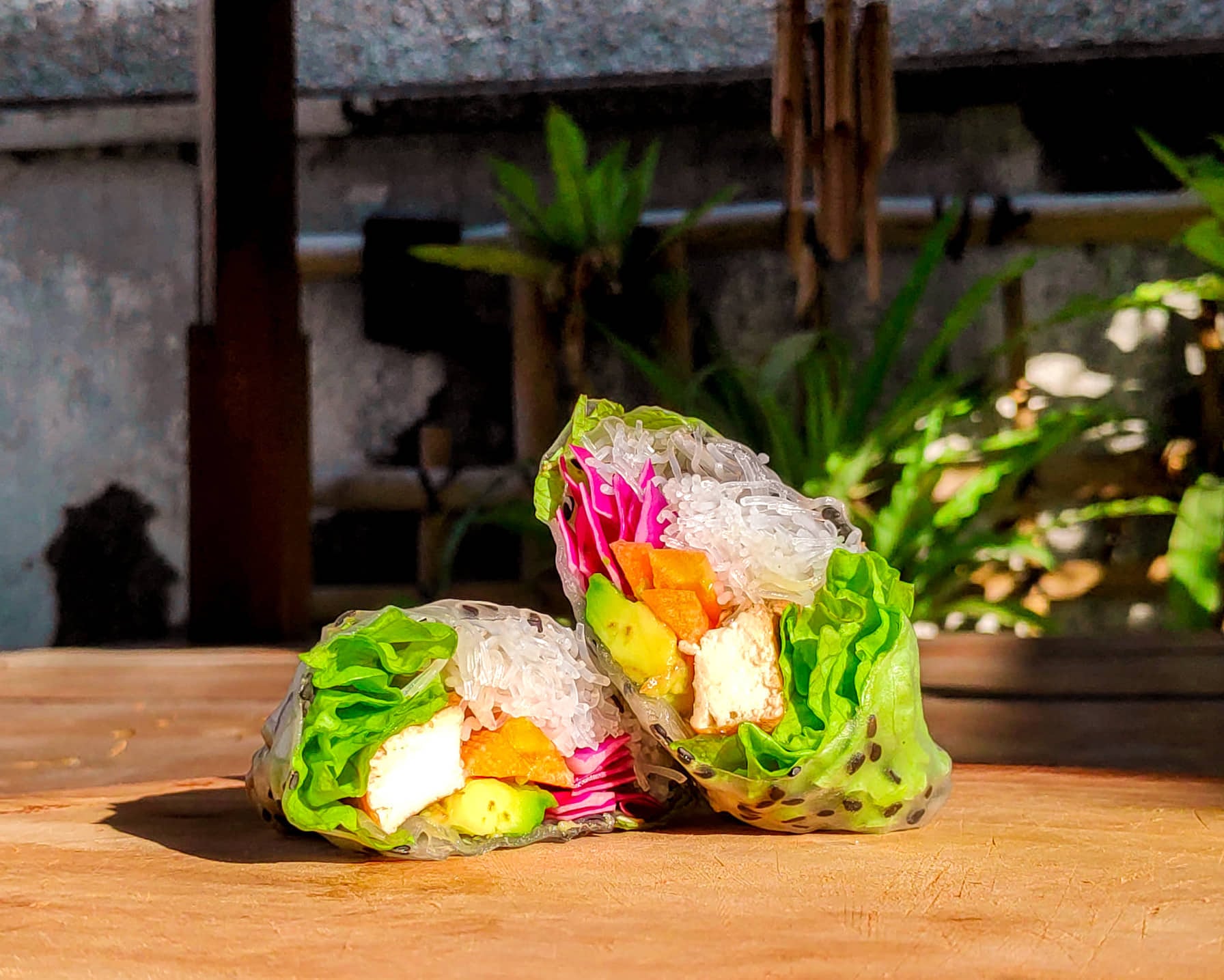 how to make vegan summer rolls
First I marinate the tofu. For the marinade I used two tablespoons of sweet soy sauce and one tablespoon of sesame oil.


Meanwhile, place the dry rice vermicelli in a heat-proof bowl or pot and pour some boiling water over it until everything is covered.


Leave them for a few minutes and stir every now and then so they won't stick together. When the vermicelli gets soft, taste it to see if it's cooked through. If it's cooked, drain them and rinse them with some cold water.


Cook the marinated tofu, either in a frying pan on medium heat for about 10/15 minutes, or cook them in the oven on a baking sheet for 15 minutes on 420

°F (220

°C). With either method, make sure all sides are golden brown by turning the tofu over.


Wash and cut all your vegetables in thin slices.


Get a large bowl with cold water and a smooth plate or cutting board. I have tried preparing the summer rolls on a wooden cutting board, but that didn't work at all – the rice paper kept sticking to it – so I recommend wetting your plate or cutting board a little bit before putting the rice paper on it.


Dip the rice paper in the cold water for about 10 seconds (not too long, they will still get softer after dipping them in the water).


Place it on the slightly wet surface and add a few mint leaves in the middle. Sprinkle some black sesame seeds all over the paper, this will make the rolls look really nice.


Add some of the rice vermicelli, tofu and all the vegetables in the middle of the paper.


Fold the top half of the rice paper over the veggies first, and then fold both sides. Slowly and carefully, start rolling the roll. Place them on a smooth surface once finsihed to avoid breaking.


Keep repeating until you don't have any ingedrients left, or when you feel like you have made enough.


For the peanut sauce, mix two tablespoons of peanut butter, 1 tablespoon of sweet soy sauce and two teaspoons of sesame oil. Add some hot water until it's got the texture that you prefer.


If you like the sauce to be spicy, add some sriracha or other hot sauce too.


Put all the summer rolls with the peanut sauce on a plate and garnish them with some mint leaves and black sesame seeds if you want to serve them nicely. Enjoy!
Find more of my recipes here.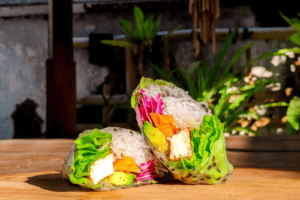 Summer Rolls with Peanut Sauce
Ingredients
rice paper

rice vermicelli

1

block

tofu

2

tbsp

kecap manis (sweet soy sauce)

1

tbsp

sesame oil

½

red cabbage

1

carrot

1

avocado

½

crop

lettuce

1

handful

fresh mint

black sesame seeds

2

tbsp

peanut butter

1

tbsp

kecap manis (sweet soy sauce)

2

tsp

sesame oil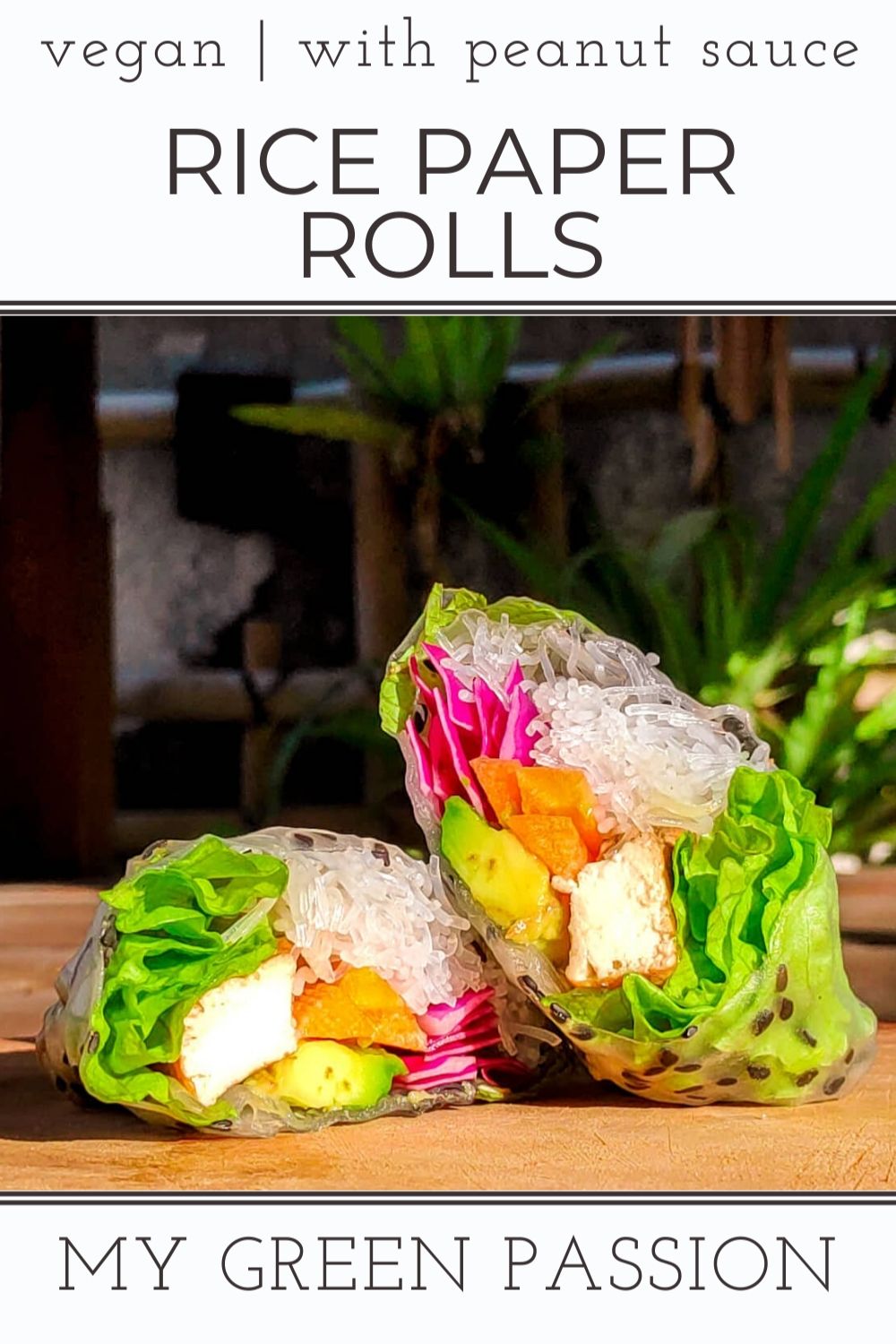 More vegan side dish recipes: